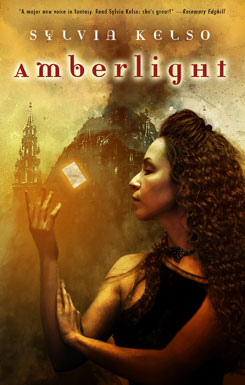 Amberlight is peopled with vivid characters that stormed up off the page into permanent residence in my mind and memory, in a unique world, and driving an original plot. If some writers' prose sings, Kelso's is an opera." - Lois McMasters Bujold
"A major new voice in fantasy. Read Sylvia Kelso: she''s great!" -- Rosemary Edghill, author of Paying the Piper at the Gates of Dawn and Other Stories
Sumptuous, sensuous, and passionate, Amberlight is completely delightful. Sylvia Kelso is a master of world-building, beautiful prose, and sheer romance." -- Delia Sherman, co-author of The Fall of the Kings
Fantasy
ISBN: 9780809572052
272 pages, $6.99
Publication Date: November 2007
A city.
A mystery.
An impossible love.

Why would the Head of a great ruling House retrieve a robbed, battered victim left for dead in the streets of the legendary city of Amberlight?
Why would the oracle that guides all House-heads tell her, It matters, if he dies?
What would an outlander stripped of all memory know of cabal and coalition along the River, where Amberlight holds the monopoly of power and wealth?
What threat might he reveal to Amberlight's one, unique possession: the motherlodes of the qherrique; the pearl-rock that gives the River's rulers their most powerful tool?
What could the Head of a great House feel for a nameless stranger, that would make her risk her House and city for his sake?
Is it honor or betrayal that brings war, siege, and the ruin of their every hope?
The answers lie beyond tangles of intrigue and insurrection and brutal warfare, when in the final upheaval they both begin to understand the more-than-human mystery that first brought them together in the streets of Amberlight.
"Speculative fiction in the true meaning. Amberlight casts an unswerving eye on the roles we take for granted and forces us to see that what lies beneath them may not be what it seems. Elizabeth K. Burton, author of Shadow of the Scorpion