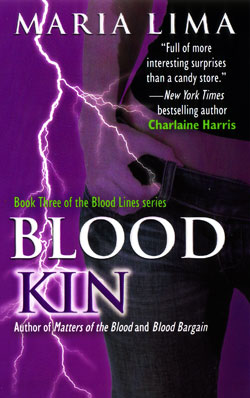 "Full of more interesting surprises than a candy store." --Charlaine Harris
"Keira Kelly kicks butt...Maria Lima writes hot action and spicy romance with a biting sense of humor, all deep in the heart of Texas. You'll be sucked in." --Dana Cameron, author of More Better Than Death
"Funny, sexy, mysterious, and lots of fun to read." --Nancy Pickard, author of The Virgin of Small Plains
November 2009
Mass Market Paperback
368 pages | $7.99
ISBN: 978-1-4391-5676-6
On Simon&Schuster.com
The perils of power...
Keira Kelly has come into her full powers, and they are frighteningly strong, creating a distance between her and her human friends in her beloved Rio Seco. It is time to obey her great-grandmother Gigi's orders, and rejoin her family in northwest Canada, where Keira can learn to handle her dangerous new skills. She'll have friends with her every step of the way--her shapeshifter brother Tucker, his beloved Niko, and, to Keira's dismay, her cousin on her mother's side, Daffyd ap Geraint, the Sidhe prince who suddenly appeared in her life and now refuses to leave--but her vampire lover Adam has insisted on staying in Texas. And while there are certainly perks to being Family, such as a private Lear jet for the flight to Canada, and a fabulous penthouse condo overlooking Vancouver, there are threats looming that nobody, not even Gigi, has anticipated. Keira's Sidhe inheritance from her mother is far more important than anyone ever realized, and the fate of the Clan may depend upon what she does....
Third of the Blood Lines Series!