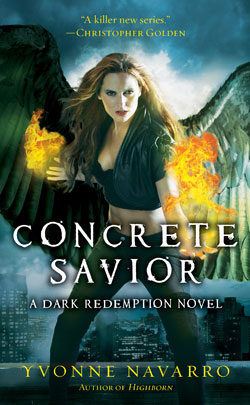 "Twisted, urban fantasy noir full of cops and bullets and fallen angels. Yvonne Navarro crafts a hell of a story, a grim journey where one wrong step could mean death or damnation. A dark gem."
--Christopher Golden, Author of the Myth Hunters Series
June 2010
Mass Market Paperback
344 pages | $7.99
ISBN: 9781439191972
On Simon&Schuster.com
They say no good deed goes unpunished.
Brynna Malak is living proof.
A fallen angel in human form, Brynna is trying to earn another chance at heaven. So far, her road to redemption is littered with casualties, especially since Lucifer's minions are intent on dragging her back to hell. And being mortal only got more complicated since Brynna became involved with Detective Eran Redmond. Still, Brynna's relationship issues-- like the fact that one glimpse of her can drive men crazy with desire-- may have to wait. A mysterious "hero" is saving Chicago's citizens from certain death, with strange and sinister consequences. Brynna knows too much about demonkind to believe in coincidences. Some dark force is at work here, and Brynna may be the only one who can stop it...
Second of the Dark Redemption Series!
Read about the first of the series: HIGHBORN.