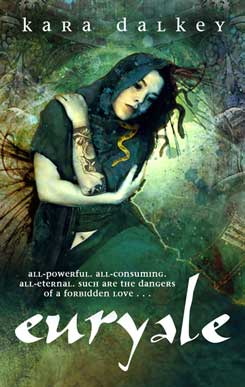 "This singularly interesting fantasy...Her understanding of characters from the past and their motivations is very nearly at the level off a such as classical historical novelist as Mary Renault, with a talent to arouse full empathy in the modern reader". -- Booklist
"...quietly written, moving narrative...[with] emotional intrigue in plenty...Kara Dalkey is a writer of unusual strength and versatility..." -- Dragon
Historical Fantasy
ISBN-10: 0809557835
ISBN-13: 978-0809557837
256 pages, $12.95
Publication Date: May 2007
Fantasy, magic, mystery and romance deftly woven into a story of gods and monsters, dark secrets and strange omens...
Veiled against the world, and served only by the blind and short-sighted, Euryale comes to Republican Rome seeking the answer to the riddle: "What can change stone into living flesh?" A witch might help her, but only if Euryale is willing to sacrifice the living in order to bring life to stone. A handsome Chaldean philosopher may possess the answer, but she must trust him with all her secrets in order to gain the solution to her dilemma.
All-Powerful.
All-Consuming.
All-Eternal.
Such are the dangers of forbidden love.
---
"The versatile Dalkey...has done an excellent job of making her characters believable people, living ordinary lives in ancient Rome..." -- Locus