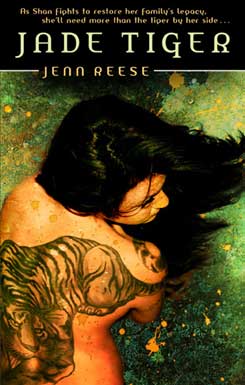 Fantasy/Action-Adventure/Romance
ISBN: 080955674X
ISBN-13: 978-0-8095-5674-8
224 pages $12.95
Publication Date: November 15, 2006
Jade Tiger is a stupendous romantic fantasy starring a nerdy male professor and a warrior woman. The half Chinese half-American Shan is an improbable yet stupendous superheroine out of the Lara Croft School of kick butt women. Readers will admire her spunk, skill and tenacity as she lands in one precarious situation after another. In some ways her soulmate Ian is even braver as she was trained for this from childhood while he is not Indiana Jones, but his strength of spirit insists he stand by his beloved, which enables her to overcome her doubts that she might succeed when her mom failed. Jenna Reese writes an enchanting saga. -- Harriet Klausner
Shan Westfall -- half-Chinese, half-American, one hundred percent kung fu badass -- is on a mission to recover five mystical jade animals before they fall into the wrong hands.

Fifteen years ago, Shan's mother led a secret society of female martial artists sworn to protect the small but powerful sculptures. Then the Jade Circle lost four of the five animals during a murderous attack on their sanctuary -- and Shan's destiny was sealed.

Now an adult and the protector of the remaining figure, a jade tiger, only Shan can recover the jade crane, snake, leopard, and dragon. Joined by geeky archaeologist Ian Dashell, her quest for the statues takes her on a dangerous trek across three continents. But when Shan finally confronts the man who destroyed her past, she loses hope. How can she possibly succeed where her mother failed?

Publishers Weekly Review:
Reese's vibrant debut introduces Shan Westfall, a half-Chinese, half-American crime fighter, who yearns to unite the mystical power of the Jade Circle, an ancient female order embodied by five jade animal artifacts. The Jade Circle is currently incomplete, broken by a ruthless crime lord who seeks the statues' power for his own nefarious purposes. Shan's determined search leads her to the jade crane held by archeologist Ian Dashell, who becomes an ally and, after a period of smoldering erotic tension, her lover. Flying kicks, heart-stopping spins and amazing somersaults propel the action. Complicating matters is Ian's colleague, Dr. Daniel Buckley, an antiquities expert; One-eye, an evil Asian martial artist; and Sifu Xia, a feisty 60-year-old kung fu queen. Reese choreographs both the romantic moves and the martial arts with flair. Juno is a new fantasy imprint of Wildside Press featuring strong female characters, exotic locales and romance.