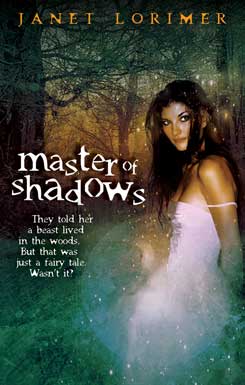 "[A]n amalgamation of a magical story of a woman who finds a strange world within a forest and a modern criminal story of searching for a murderer....This is an excellent read with interesting characters, several mysteries and a satisfactory ending." (5 Stars) -- Curled Up With A Good Book
"Readers will enjoy this enchanting romantic fantasy as the audience will hope Ariel obtains her happily ever after." -- Genre-Go-Round
"Lorimer incorporates mystery into the novel with skill. Nothing is as it seems and just when the puzzle seems to be coming together, she propels the story with another twist. Master of Shadows contains a magic of its own, transporting the reader to childhood, where being a princess is not an impossible dream and chivalry is alive and well." -- Breeni Books
Romantic Fantasy
ISBN-10: 0809557827
ISBN-13: 978-0809557820
256 pages, $12.95
Publication Date: September 2007
Belief is a powerful charm. . .
Never go into the woods at night, especially if the moon is full.
The old woman's warning, hissed years ago in Ariel's ear, came back that night to haunt her.
They say there's a beast that lives in those woods...a beast that walks and talks like a man.
An ominous shadow blocked the pale light and a powerful hand clamped down on her shoulder.
"Do not move. Do not turn around."
The voice was male, deep and harsh in the silence. At the sound of it, Ariel uttered a startled cry.
"Ariel McPherson . . ."
A guttural whisper in the dark, but he'd made her name sound like velvet being stroked.
Ariel's life had been a modern fairy tale, but her father's baffling disappearance brought it all to a crashing end. She meets the enigmatic Louvel one night, but never sees his face -- even after accepting employment at his magnificent estate. When it becomes imperative to solve the mystery of what happened to her father, Louvel appears to be helping her . . . but can Ariel trust a man who lives in the shadows?