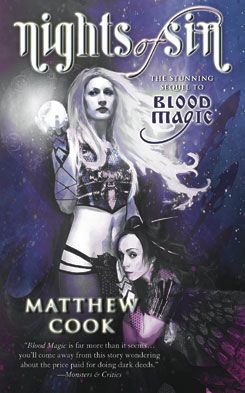 Nominated for the 2009 Gaylactic Spectrum Award
"...a fantastic fantasy series."
--Alternative Worlds
"[Matthew Cook's work] simply demands to be read."
--BlogCritics
Fantasy
ISBN: 978-0-8095-7282-3
Mass Market Paperback
376 Pages $6.99
September 2008
KIRIN: A necromancer who has vowed to never again use her blood magic, strange powers that can be used only at great cost.
LIA: A young noblewoman of gentle spirit and great power, an aeromancer who can call lightning from the heavens
They have shared life, death, and love. Together, they have survived the deadly Mor and made their way to the besieged Imperial City.
The Imperial Court, content to trust the massive wall of the Armitage to protect them, seems unaware of the City's peril, but Kirin and Lia know the danger all too well.
But even as the monstrous Mor seek to bring down the barricade of the Armitage with a force never before imagined, a wall of mistrust grows between Kirin and Lia. When a necromancer suggests blood magic might be used to prevail against the Mor, Kirin may find it impossible to keep her pledge to Lia.
Nights of Sin is the sequel to Blood Magic!