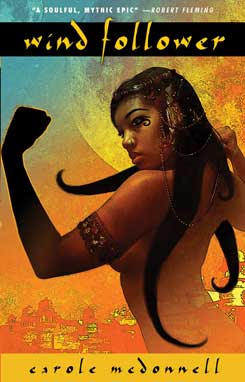 "Wind Follower is a page-turner right from the beginning. It is a story of love, despair, compassion, revenge, spiritual battle, healing, enlightenment and reunion.
-- Alice Teh, The Long and Short of It
"Yes, this is a highly unusual book -- in my eyes, typical of the new wave of Christian speculative fiction in its refusal to fall into a tidy category. What's more, Wind Follower is anything but predictable. It is not a comfortable tale, but it is a solemn, mystical adventure, displaying the hero's journey to his own heart, and the heroine's discovery of her beloved's faith in the midst of impossible circumstances. This one will make you think for sure." -- Splashdown Reviews
"[U]ndoubtedly one of my favorite books of the year....Wind Follower is a complex yet very readable book; an epic story that tells a powerful tale that imbibes the soul and is filled with passion in each page.
"The story is set in a wonderfully unique world that's not often seen in fantasy literature....I can't say enough about Carole McDonnell's writing. It just blew me away! She created a world that was so incredibly complex with it's own slang, scenery, caste system, races, etc. and made it feel so comfortable. I fell into it easily. I fell in love with her characters instantly."-- Stuff As Dreams Are Made On
"Carole McDonnell has written a powerfully, absorbing tale on the culture, race relations, tribal traditions and religious customs of an African society. Deeply entrenched in the entire epic is not only a love story, but also a search for the one true God....McDonnell's writing is so masterful, even the spirit beings command your attention.... McDonnell creates a mystical world that speaks volumes about issues prevalent today. Emotionally charged and thoroughly entertaining, WIND FOLLOWER will leave you looking forward to more from this talented author." (5 Stars/A TRR Favorite)-- The Reading and Writing Sistaz
"McDonnell's promising fantasy debut portrays a land inhabited by the black-skinned Theseni, brown Ibeni and tan Doreni....McDonnell's language is delicate almost to a fault, even as she describes betrayal, rape and slavery, while her elegant, meticulous world-building shimmers with the ambience of an old-world folktale." -- Publishers Weekly
"That McDonnell is a capable writer and master storyteller is obvious as she adroitly manages to give each character their own unique voice. Wind Follower is a chronicle that attracts the reader, draws the reader right into the striking, fully developed and even at times catastrophic setting...Wind Follower is a sociologist's dream novel. The book sets down cultures, with all their qualities and persona in a compelling read that brings the reader to understanding more of social more and importance of taboo and cultural dictates without sounding preachy or causing the reader to feel overwhelmed in the minutiae." -- Midwest Book Review
Wind Follower is so unique in my own experience that I find it hard not to gush all over this novel....Wind Follower is not a book that can be pigeon-holed and every person will find something he or she loves, and something he or she dislikes. And that is McDonnell's greatest triumph. No matter your reaction to the novel, you will be called to an emotional response of some kind to the characters....I highly recommend this book. Wind Follower struggles with the religious nature of man, the effects of racial hatred on belief, the intimacy of a marriage ruled by custom, and ability of forgiveness to transcend all transgressions. If you leave this novel on the bookstore shelf, you will be the poorer for it." -- Grasping for the Wind
Fantasy/Spiritual
ISBN-10: 0809557797
ISBN-13: 978-0809557790
348 pages, $12.95
"Engrossing, perceptive, earthy, and provocative, Carole McDonnell's debut novel, Wind Follower is a soulful, mythic epic of race, class, and cultural divisions that speaks volumes to the important questions of our day. Her lead characters, Satha and Loic, are vividly depicted, fully realized in this magical world. She can write scenes that plug completely into all of the key emotions of the reader, alternately spellbinding and disturbingly masterful."
-- Robert Fleming, author of Havoc After Dark and Fever In The Blood
A fourth tribe has come to the land of the three tribes; the light-skinned newcomers are fated to change the tribes' way of life and religion. Satha, a dark-skinned woman from a poor Theseni clan, and Loic, her wealthy young Doreni husband, are too busy forging their new life together to pay much heed. But when Satha is dishonored and Loic must avenge her, they find themselves drawn into a cultural battle. Kidnapped and enslaved, Satha strives to retain her autonomy. Loic struggles against the Arkhai, spirits who fear his his quest will lead him to the true god whose place they have usurped. With the Creator's aid there remains hope they will be reunited and find their mutual destiny, even if it means losing the love and respect of their comrades, families, clans, and tribes.
Nominated for the 2008 Clive Staples Award
---
"This intense African romantic historical fantasy vividly brings to life the interrelationships between the three tribal clans as well as the effect of the outside forces. Thus the audience receives a complex tale of broken love and potential redemption in which the backdrop is a war torn land and on a metaphysical plane the spirits interfere with the lead couple while the Creator encourages them to find paradise lost. Carole Mcdonnell writes a powerful character driven (not just by humans) epic parable, which depending on what the pair separately do could turn into a great Greek (albeit African) tragedy or a second coming." -- Harriet Klausner

"Carole McDonnell's Windfollower was an instant addition to my top ten list due to its beauty, power, and fearlessness....Windfollower unfolds in a astonishingly vivid, sometimes disturbing, world that mirrors our own current struggles of race, class, and culture. This is the type of novel that is meant to be read several times and will offer the reader something new with each journey. I am amazed at the talent of this author..." -- Disturbing the Universe

"...This is a book filled with despair as well as love, loss as well as discovery. It is flawed, but its appeal is undeniable. It is a book which will make you want to discuss it with others, and one which you should absolutely read." -- Broadsheet