The Vampire Sunrise Cocktail
6 ice cubes
1 1/2 oz. of pepper vodka
1/2 oz. DeKuyper "Hot Damn!" Hot Cinnamon Schnapps
4-5 oz. orange juice, well shaken
1 oz. Alizé Gold Passion orange cognac
1/2-1 oz. grenadine
Put ice cubes in 12 ounce highball glass. Pour in pepper vodka and cinnamon schnapps, add orange juice to fill to desired level. Add two ounces of orange cognac. Last, pour in grenadine, which will settle to the bottom. Add ice to drink as it melts, creating a longer and more sensual experience. This drink is no hit-and-run vampire bite.

Download a PDF bookmark with the recipe!
(Big file, patience needed)

The Dawning of a Drink With Bite
(Excerpted from Vampire Sunrise by Carole Nelson Douglas)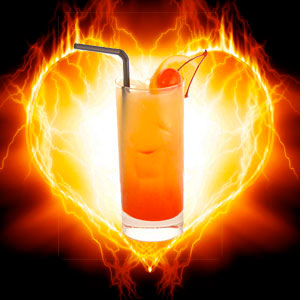 I'd followed her to a built-in cabinet whose exotic wood doors concealed an awesome wall of branded bottles. Guess this wasn't Alice's Restaurant, as in the old song by Arlo Guthrie, but Alice's Bar.
"I'll concoct something," I said. "Hmmm, no white chocolate liqueur aboard for an Albino Vampire."
"This is usually a guy's plane, Delilah. No sweet girly liquors allowed. An Albino Vampire? That does sound intriguing."
Wait until she met Snow, which she would. He may deny being a literal vampire but he was a money-sucking albino casino owner, so I'd named the drink to irk him.
"Vodka's a manly drink," I said, spotting a crown-shaped vodka bottle of cut and frosted glass touched with gilt. Hmm, this Regalia Gold was something decadently pricey the Inferno bar might feature. "I'll whip up something apropos. I seem to have a way with spirits."
Into a highball glass I poured a jigger or so of the high-end vodka--though I'd have preferred pepper vodka--and a half-jigger cinnamon schnapps, then added five ounces of the orange juice from an under-counter mini-refrigerator. Feeling frisky, I added two jiggers of orange-flavored cognac from a fancy little bottle. Finally, in went a scant half-jigger of rich thick red grenadine to sink to the bottom. Sweet! I did it all over again and brought the second drink to Ric's mother.
"It matches the sunset," she commented, lifting her glass. We settled into our chairs to watch the sun painting the horizon dark watercolor hues through the windows. "We should be shadowing the sunset like Sam Spade on a case all the way west."
She eyed her vivid glass. "Umm. Subtle yet spicy . . . for modern women like us. What will you name this concoction, Delilah? It looks like Tequila Sunrise."
"No tequila in it. How about a...Vampire Sunrise?"
"Don't vampires retire to their coffins to sleep all day about then?"
"So says the legend. Let's drink to that."
We clicked rims...
---
Be sure to try Delilah's Albino Vampire Cocktail from Dancing With Werewolves and the Brimstone Kiss Cocktail from Brimstone Kiss!
---